Biography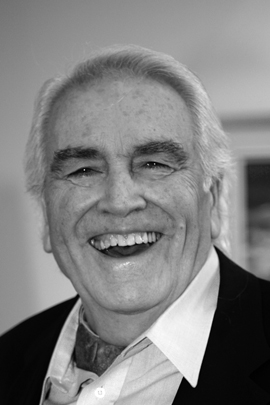 Daniel J. Izzard, one of Canada's most renowned Impressionist painters was born in London, England on May 19, 1923, served in the Royal Navy from 1942 to 1947 and was the art editor for HMS Vanguard Magazine during the Royal Tour of South Africa, 1947.
He moved to Canada in 1952, where he began his essentially self-taught career as an Impressionist painter of landscapes, seascapes, still lives, portraits and nudes. Mr. Izzard has painted professionally for over 50 years and has travelled alone by canoe on painting trips to remotes areas of Canada; searched out material in Europe, Asia, Latin America and North Africa. He has had over 58 one-man exhibitions over the past 43 years
In 1979 he was elected lettered status and to the board of Governors of the Federation of Canadian Artists and HM Queen Elizabeth II accepted a large canvas entitled "Mountain Mists, Whistler, BC" presented by the Government of Canada, to commemorate her visit to Ottawa on Proclamation Day, April 17, 1982.

In January of 1986, Izzard became the oldest heart-transplant recipient in Canada following his operation at the University Hospital in London, Ontario. With a new lease on life he has continued filling canvasses with light and colour.
In January 1988 the artist was recognized and honored by the Mayor and Council as one of West Vancouver's Outstanding Achievers over the past 75 years. In 1993 he received a commemorative medal for the 125th Anniversary of the Confederation of Canada and in 2000 he received the North Shore FANS Recognition Award.
Izzard has been Honorary Chairman of the BC & Yukon Heart and Stroke Foundation; Honorary Chairman of the BC S.P.C.A.; participated in charitable work for the MS Association, United Way, Canadian Cancer Society, Canadian National Institute for the Blind, the Coho Festival, was a leading force in the fight to preserve the old growth forests of British Columbia and also helped raise over $ 800,000 for the variety Club Telethon with two of his limited edition prints
Daniel Izzard stated that "Light is the spark that makes a work come to life. In my painting, I lay the light on last, almost as if it is the sun beating down… forcefully, directly, full brush."
"I am an Impressionist in the sense that I am too impatient and emotional for carefully planned formula renditions. Art is more than painting, it is emotion…inspiration. When I am totally engrossed in what I am doing, as if nothing else exists… painting can be a spiritual experience."
Daniel Izzard passed away on June 6, 2007 and was still full of creative ideas, even after the accident that eventually claimed his life.