News
Daniel J. Izzard: A Retrospective at Park Royal North
"West Vancouver opened my creating juices. It was love at first sight." – Daniel J. Izzard
Come to a new Retrospective Exhibition of Daniel J. Izzárd's paintings in Fall 2018.
During a career that spanned more than 45 years, Daniel Izzard enjoyed scores of one-man exhibitions that often reflected his love of nature. His search for inspiration took him around the world, from his native England to India, Latin America, North Africa, Asia and the Middle East. He moved to Canada in 1952, eventually settling down in West Vancouver where he became a champion of numerous causes. He relished community affairs and was easily recognized while shopping with paint in his hair.
The exhibition runs from September 20 to December 20, 2018
at the Atrium of Park Royal North, West Vancouver B.C.
Opening hours are:
Monday to Tuesday 11 AM to 7 PM
Wednesday to Friday 11 AM to 9 PM
Saturdays & Sundays 11 AM to 6 PM
2018 Exhibition and Sale


Held over by popular demand!

Until December 30, 2018, an exhibition & sale, featuring Daniel Izzárd's masterpieces is open in West Vancouver. You have the unique opportunity to see a glimpse of the body of work of Canada's foremost Impressionist.
Izzárd always stated: "Light is the spark that makes a work come to life. In my painting, I lay the light on last, almost as if it is the sun beating down… forcefully, directly, full brush."

This is truly reflected in the paintings that will be shown during this special exhibit; where the public will also have the rare opportunity to acquire oils, limited edition prints, drawings and sketches,

The exhibit, is located at Park Royal North Mall
(Located between The Bay and Maritime Travel)

Open daily from 11:00 AM to 5:00 PM

To arrange a private viewing at other times,
please make an appointment, by e-mail or
call Pilar Izzárd at 604-922-3474 or 604-813-4520.
Family Portrait
By Greg Hoekstra
Contributor of the North Shore Outlook
Nearly a decade has gone by since Hazel Stevens passed away at the age of 102. Understandably, her grandchildren likely thought they'd never see the Haida elder again.
But thanks to an art exhibition currently at Park Royal North, three of Stevens' grandchildren were recently given another chance to gaze into the matriarch's wise eyes in an oil portrait their family didn't know existed.
The grandchildren – Darlene Squires, Irene Bruce, and David Dixon – made the pilgrimage to West Vancouver from Skidegate, Haida Gwaii late last month, after a neighbour thought she may have spotted Stevens' familiar face in a newspaper advertisement.
As it turns out, the ad was promoting an exhibition of the works of the late Daniel J. Izzard, a renowned North Shore impressionist painter, who caught Stevens' image on film during a trip to Haida Gwaii in the late 1980s, and later turned it into one of his most treasured portraits in 1999.
"It's a beautiful piece. I always loved that painting so much," recalls Izzard's wife, Pilar, who is coordinating the Park Royal exhibition in her late husband's honour.
"Her eyes, the wrinkles in her face, they tell such a story. I have always wondered 'Who is that woman? Where is she right now?' And now I know."
As Pilar remembers it, the three Haida grand kids walked into the gallery on March 24 looking as though they were "on a mission." Without so much as a hello they walked straight toward the portrait of Stevens, froze in their tracks, and declared in unison and disbelief, "That is our grandmother! That is our Nuni!"
For Pilar, it was an exceptionally moving moment that will stay with her.
"There was not a dry eye in the place," she says. "We were all in tears. It was a beautiful moment."
After meeting Stevens' grandchildren, Pilar says she is now considering donating the portrait to a museum in the Haida Gwaii so the elder's ancestors could visit her portrait at any time.
"I think Daniel would like if that painting went back there, to be on display in the museum," says Pilar. "He loved the people. He loved the Haida, and all first nations."
In addition to Izzard's stunning portraits of the Haida people, the Park Royal exhibition also showcases a variety of work from the artist's 53-year career - from the beautiful landscapes of British Columbia to the winding canals of Venice, Italy, to the bustling markets of Oaxaca, Mexico.
"Daniel was incredibly versatile," says Pilar. "He could do anything, and he could jump from kind of painting to the next. That's what I'm hoping to display here."
Given that this exhibition is the first public showing of Izzard's work since his passing in 2007, Pilar says it's been somewhat of an emotional rollercoaster. But what has been most gratifying, she says, is watching first-hand as her late husband's life's work continues to inspire those who stop by the gallery.
"I love to watch people walk in (to the gallery) and be inspired. Especially families with young children," she says. "In a way, it's like his legacy. And that's very special to me."
The Daniel J. Izzard Retrospective Exhibition, which is located at Park Royal Mall North, includes a diverse selection of Izzard's work, including landscapes, portraits, still-life paintings, and the nude and erotica.
In addition to Izzard's paintings, patrons will also be treated to a selection of pieces by famous jade carver Lyle Sopel, formerly of North Vancouver, who has been hailed by National Geographic as "among the best of the world's contemporary jade sculptors."
Daniel Izzard (May 19, 1923 - June 6, 2007)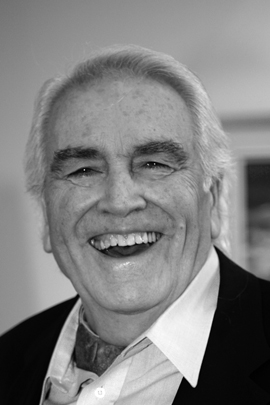 Daniel J. Izzard, one of Canada's most renowned Impressionist painters passed away after complications from a fall at a dance ball, on June 6, 2007 in Vancouver, B.C. He died peacefully surrounded by his wife and constant companion Pilar and his devoted family.
Documentaries and videos detailing Daniel's exciting life are also available. If you would like more information about Daniel or about his stunning paintings, please contact: his business manager, Pilar Izzard at 604-922-3474, fax 604-922-3432 or send us an email to izzardstudio@shaw.ca
Daniel Izzard receives the Lifetime Achievement Award by the Federation of Canadian Artists
On Sunday March 26, 2006 Daniel J. Izzárd, a senior lettered member since 1974 was awarded the Lifetime Achievement Award by the Federation of Canadian Artists in Vancouver, BC. "in recognition for his long and illustrious career, his work in support of non profit institutions and his leadership in forming the Canadian Institute of Portrait Artists "
Izzárd has had over 50 "one-man" exhibitions and has an impressive list of public, private and corporate collections all over the world.
Born in England in 1923, he is a self-taught Artist. An impressionist in oils, Izzárd works boldly, loosely and generously with both paint and feeling. But now as he said, "in my old age I am painting much slower and producing more careful renditions," as an example his famous Ballerinas series. He has been called the last of the true impressionists.
This widely-traveled W.W II ex-Royal Navy veteran finds inspiration everywhere, but nowhere more happily than in the beauty of British Columbia. He has made West Vancouver home for the last 41 years when in 1987 the Mayor and Council recognized with its 75 Anniversary award as one its outstanding achievers, in the past 75 years.
The Federation of Canadian Artists (FCA) was established in 1941 as a not-for-profit organization dedicated to the promotion and professional development of artists, raising the artists' standards by stimulating participants to greater heights of achievement. FCA opened the first completely artist-sponsored gallery-workshop-studio in Canada, which is now recognized and respected from Coast to Coast.
Award winning painting painting has a local setting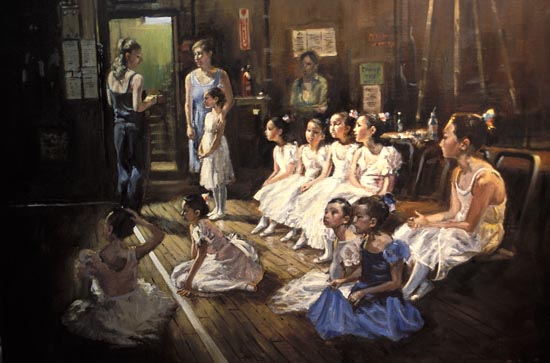 West Vancouver's renowned Master Impressionist Daniel J. Izzard, was named 2nd Prize Winner in a world wide competition held by "International Artist," a magazine synonymous with high-quality art publishing and featuring only the world's best artists. The painting that took the prize, "Les Debutantes In Waiting," is published in International Artist Issue No. 40 Dec/Jan05
"...We were overwhelmed with the excellence and the number of entries received"
Vincent Miller, Editor in Chief / Publisher, Sydney, Australia "Les Debutantes in Waiting" depicts young ballerinas from the Anna Wyman School of Dance Arts in West Vancouver waiting in the wings of The Centennial Theatre in North Vancouver. In addition, the painting will be reproduced in a book called "How Did You Paint That? 100 Ways to Paint People and Figures."
Celebrating a lifetime of creating fine art
From the article published in the North Shore News on June 8, 2003 by Vikki Finkbeiner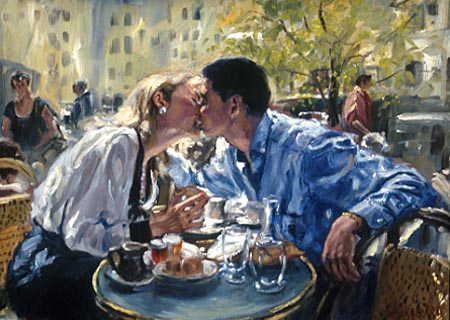 Canadian master Impressionist painter Daniel J. Izzard offers some advice tobudding artists."Keep drawing, keep drawing, and do not be hurt by rejection; it is part of the life of an artist," says the West Van resident, whose art has taken him to many countries, accumulated numerous award and recognitions, television and radio appearances, and given him the opportunity to participate in charitable work.
For a time, however, Izzard's life took a couple of turns - when he was in the Royal Navy, and later when he first came to Canada and worked as an accountant, purchasing agent and then general manager with a major resource company. A self-taught artist, Izzard started drawing and painting at a very tender age and has never stopped. He has painted professionally for 45 years, and full time for the past 34 years, having had 62 solo exhibitions over the last 46 years. "I am an Impressionist in the sense that I am too impatient and emotional for carefully planned formula renditions. I respond intuitively, and I am interested in strong essentials, which for me are: perspective, colour, spontaneity, passion, power, and poetry," says Izzard.
One special milestone in Izzard's life was in January, 1986, when he became the oldest heart-transplant recipient in Canada following his operation at the University Hospital in London, Ontario. One year stands out in Izzard's painting career. That year is 1953, when he was asked to have a one-man exhibition at the Eaton's Fine Art Gallery in Toronto. Smiling, he says "Then I knew I was on my way." There have been many milestones in Izzard's art career since then. One of them was the commission of a large oil on canvas - Mountain Mists, Whistler - which was presented by the Canadian government to Queen Elizabeth to commemorate her visit to Ottawa on Proclamation Day, April 17, 1982.
Another of his paintings - an oil on canvas of the Potala Palace in Llasa, Tibet - was exhibited as part of the world celebrations to honour the Dalai Lama's 50th birthday. Izzard has travelled to a different country each year and exhibited artworks that were painted on-site, of subjects, portraits, and scenes pertaining to whatever country he was in at the time. His most recent travel destinations include Singapore, Malaysia, Andaman Islands, Sri Lanka, India, Israel and Greece. He has travelled alone by canoe on painting trips to remote areas of Canada and has searched out material in Europe, Asia, Latin America and North Africa.
Izzard was born in London, England on May 19, 1923. He was one of five siblings. Izzard served in the Royal Navy from 1942 to 1947. He was the art editor for HMS Vanguard Magazine during the British royal family's tour of South Africa in 1947. During that tour, Izzard, who is a baritone, sang with the HMS Vanguard's choral group for the royal family. The concert was broadcast from ship to shore.
Izzard came to Canada in 1952 going to Quebec and on to Toronto, where he worked as an accountant and then a purchasing agent with Standard Chemical, owned by Dominion Tar & Chemical out of Montreal. Later, he became the general manager for Canada with Refinery Engineering, owned by the Vitro Corp. of America. The company was expanding and wanted Izzard to move to Calgary, but he did not wish to live there, so he resigned in 1960. Izzard remained in Toronto, became a full-time artist and started his own art business, which he still has.
During 1951 and all through the 1960s, 1970s and 1980s Izzard held solo exhibitions in Northern Ireland, across Canada and the United States, Spain and Mexico. Through the '80s Izzard also had paintings in joint exhibitions throughout the Vancouver area and in Ottawa. Izzard was elected lettered status and to the board of governors of the Federation of Canadian Artists in 1979.
He received in 1993 a commemorative medal for the 125th anniversary of the Confederation of Canada. In 2000, he was the recipient of the FANS Award, presented by the North Vancouver Arts and Culture Commission in recognition of outstanding achievements in the arts. Izzard's charitable endeavours include serving as the honorary chairman of the B.C. and Yukon Heart and Stroke Foundation and of the B.C. SPCA. He has also participated in charitable work for the MS Association, United Way, Coho Festival, and was a leading force in the fight to preserve the Old Growth forests of British Columbia.
All through the years - from the mid-'60s to mid-'80s - Izzard appeared on various well-known television shows and radio stations with popular and big-name media personalities. Izzard is very creative at working in wood and derives great pleasure and peace of mind from his painting and designing creations in wood. He has extraordinarily captured his own inner peace and happiness through the expression of the eyes and faces in the portraits he has painted of the various members of his family.
Izzard and his wife, Pilar - the Consul of Bolivia and general manager of Izzard Fine Arts Inc. - love the ambience, casualness and friendliness of West Van, and the spectacular scenery of the entire North Shore. They have an extended family, still growing, and living fairly close to them, so there are always lots of family gatherings. Izzard's son, Daniel Paul, is also an artist and lives in Toronto. Izzard is content with his life, and hopes to continue with his painting and his art business for several years. "I will never stop drawing and painting as long as there's life," smiles Izzard, the master Impressionist.